Cycling across Europe is the perfect opportunity to discover new places, and EuroVelo, a network of 17 long distance cycle routes connecting and uniting the European continent, is by far the best option for travelling on two wheels.
With summer just around the corner, it's time to start planning your getaway. So, why not take a well-deserved cycling holiday to 2022's "Best European destination to visit", Ljubljana, and arrive just in time for the Velo-city Conference on 14-17 June?
Three EuroVelo routes cross Slovenia:
EuroVelo 8 - Mediterranean Route
EuroVelo 9 - Baltic Adriatic
EuroVelo 13 - Iron Curtain trail.
However, if the thought of long-distance cycling seems a bit too daunting, do not fear, part of your journey can be completed by train! In this article, we've compiled a list of the best EuroVelo routes and train connections that will take you and your bike to Ljubljana in style.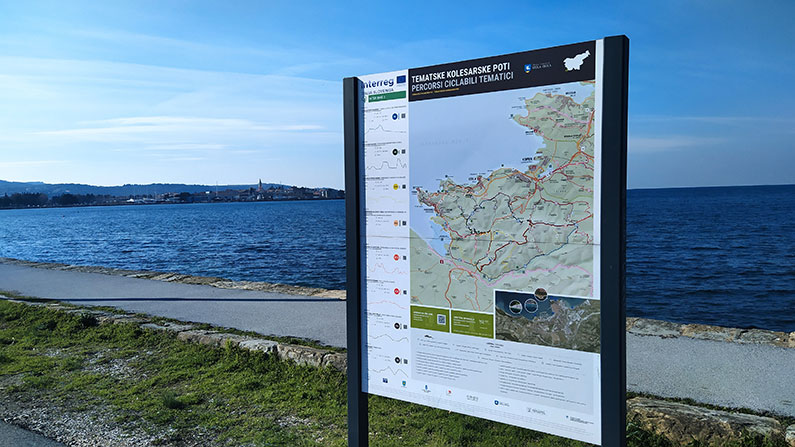 EuroVelo 8 - Mediterranean Route
If you dream of sunny days, Mediterranean food and beautiful sunsets, EuroVelo 8 - Mediterranean Route is the one for you. It unites ten countries: Spain, France, Italy, Slovenia, Croatia, Bosnia and Herzegovina, Montenegro, Albania, Greece, Turkey and Cyprus.
Coming from Italy or Croatia, you can discover the Slovenian region of Parenza. The route goes along the old narrow-gauge Parenzana railway, which used to connect Trieste and Poreč and has now become a symbol of friendship between the Slovenian, Italian and Croatian municipalities.
The 43 km-long section of EuroVelo 8 will then lead you through old cities and villages, vineyards, olive plantations and across valleys and hills. Travellers will also be able to visit the charming coastal cities of Koper, one of the oldest towns in Slovenia and Izola, known for its fishing traditions.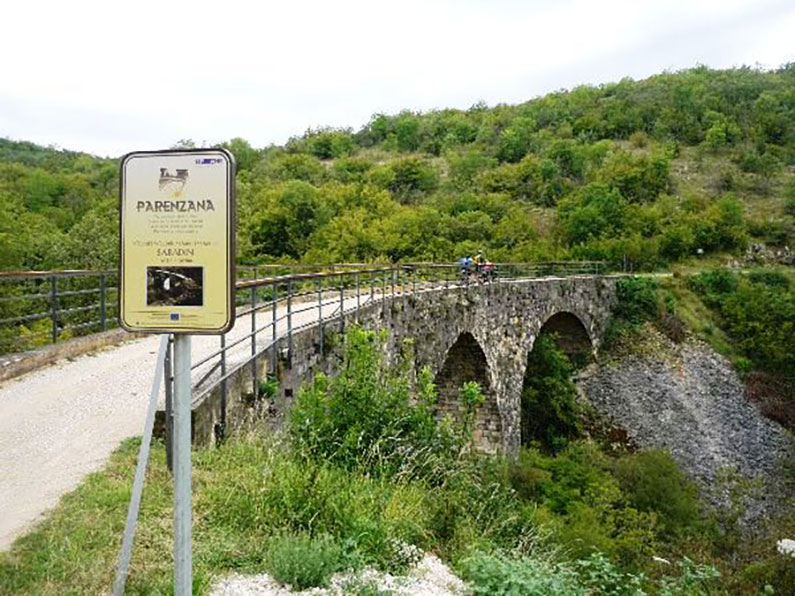 Thanks to the good train connection, you can then easily travel from Koper to Ljubljana. The Slovenian train company (Slovenske železnice) offers many trains per day and the journey lasts about 2h30. A bicycle ticket can be purchased for only €1.50 (you can check the rules here).
There is also a direct line from Trieste, which lasts around 2h50. Italian long-distance trains allow the transportation of bikes in a dedicated carriage (you can find more information on Trenitalia website). There is also the option of coming from Zagreb, with the journey lasting around 2h30. Thankfully, Croatian Rails offers the possibility of carrying your bike assembled in the passenger's section or in the luggage area.
EuroVelo 9 - Baltic-Adriatic
Are you keen on a cycling adventure that takes you alongside rivers and through mountains? Then EuroVelo 9 - Baltic-Adriatic is what you are looking for. The so-called "Amber route" starts on Poland's coast and traves all the way down to the Adriatic Sea, crossing Ljubljana along the way. You can discover six countries on this route: Poland, Czech Republic, Austria, Slovenia, Italy and Croatia.
Travellers can enter Slovenia coming from Trieste or Austria, before cycling along the Slovenian EuroVelo 9 section. Along this route, you can explore Maribor, the country's second-largest city, which is surrounded by the green forests of Pohorje and was the European Capital of Culture in 2012.
From there, you can cycle to Ljubljana, enjoying the ride on over 300 km of cycling lanes. Explore both the city its surroundings on four thematical bicycle paths: Waterside, forest, Plečnik and the gravel path.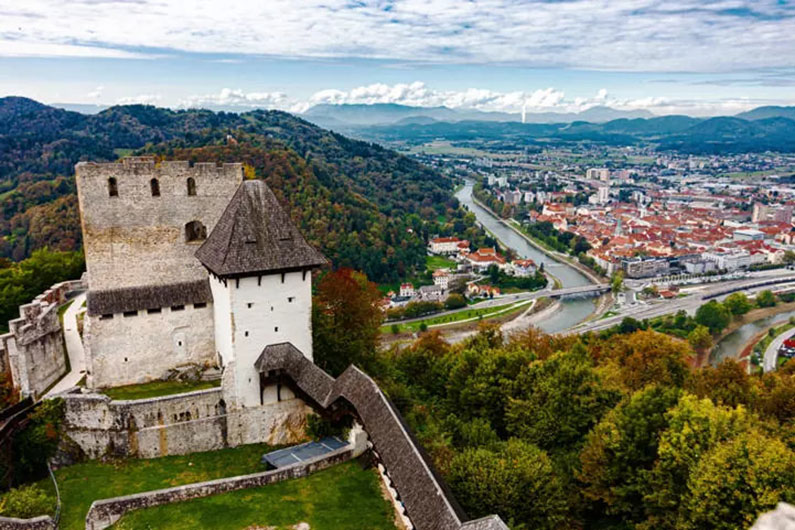 If you're already tired after the long trip from Poland's coast, you can instead complete the last stretch of your cycling journey by train, making use of the six-hour direct train line between Vienna and Ljubljana.
Long-distance trains accept bicycles, though you will need to book them in advance at an additional fee (find more information on ÖBB website). Alternatively, you can also take the train from Trieste, where there is a direct train that arrives in less than three hours. Bikes are also accepted and must be stored in a dedicated carriage (find more information on Trenitalia website).
EuroVelo 13 - Iron Curtain trail.
Would you like to combine history and nature on your trip? Then EuroVelo 13 - Iron Curtain Trail offers everything you need. Uniting the Barents Sea with the Black Sea, this route will take you all the way to Slovenia from the northern tip of Norway. It covers twenty countries in total: Norway, Finland, Russia, Estonia, Latvia, Lithuania, Poland, Germany, Czech Republic, Austria, Slovakia, Hungary, Slovenia, Croatia, Serbia, Romania, Bulgaria, Republic of North Macedonia, Greece and Turkey.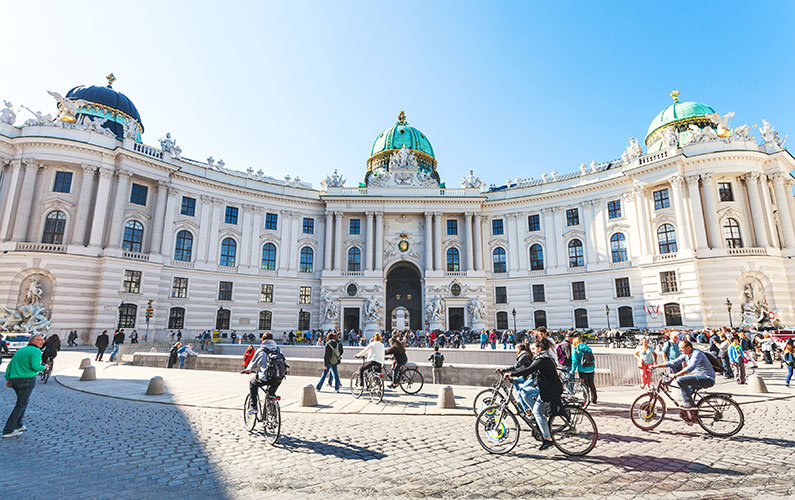 The route allows travellers to enter Slovenia through either the Hungarian or the Croatian border before cycling across the 107 km section in the region of Prekmurje. Visit Lendava, a culturally rich city which is the centre of the Hungarian minority of Slovenia. Here you can discover the city's castle and take a break in the Lendava thermal spa after a pleasant day's cycling. Surrounded by beautiful landscapes, make sure to stop in Šalovci, which is known for its pumpkin oil and fruit vinegar.
From the city of Šalovci, you can easily reach Ljubljana by train. The Slovenian train company, Slovenske železnice, offers various journeys that last between three and four hours. You can carry your bicycle on the train by paying a fixed rate (find more information here).
Coming from Vienna is also easy; the journey last around six hours and bicycles are allowed by booking them in advance and paying and extra fee (find more information on ÖBB website).
Ready? Prepare your bike, your adventure is about to start!
Velo-city conference 2022
Velo-city is the annual world cycling conference organised by the European Cyclists' Federation. It aims is to promote cycling as a sustainable and healthy mean of transport for all. Like no other event, the conference offers a knowledge-exchange and policy-transfer platform to a growing number of more than 1,400 Velo-citizens from over 60 countries involved in the policy, promotion and provision for cycling, active mobility and sustainable urban development
This year, the cycling summit will be held in Ljubljana's exhibition and convention centre on 14-17 June.