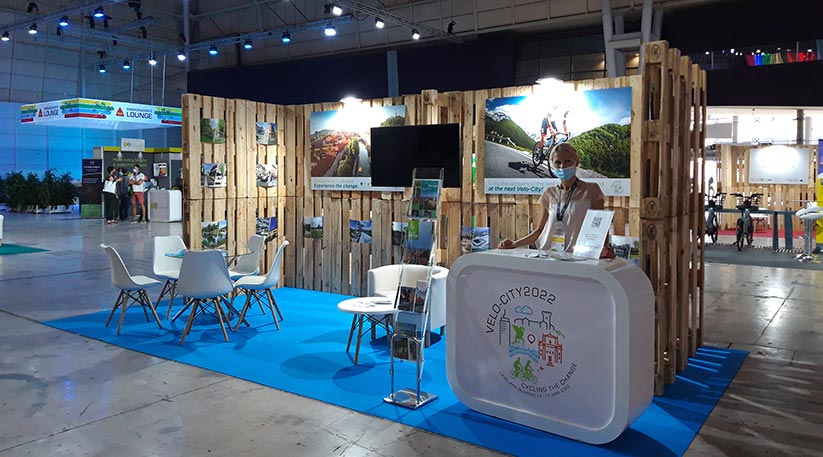 The City of Ljubljana, the host of the next World Cycling Summit Velo-City 2022, is presenting the city, its best practices in the field of sustainable mobility and much more in Lisbon at the Velo-City 2021 from 6 to 9 September 2021.
The Ljubljana team is pleased to invite participants of the conference to their booth at the Exhibition hall from 6 to 9 September, where they can find out more about "the most beautiful city in the world", as Ljubljana's Mayor Zoran Janković often says.
In case you wish to discuss health and climate resilience, pay attention to the session "Climate action now" on 6 September at 2.30 p.m. (GMT). At this opportunity, Ms Simona Berden of the City of Ljubljana will present best "green" practices of Ljubljana - European Green Capital 2016.
If you are interested in how the City of Ljubljana facilitates and promotes cycling tourism, you can join the session on 7 September at 2.30 p.m. (GMT) entitled "The route to cycle tourism". Mr Jan Oršič of the Ljubljana Tourism will surely convince you to cycle to Ljubljana and explore the surroundings by bicycle.
On 8 September at 2 p.m. (GMT), Vita Kontić Bezjak of the City of Ljubljana will participate in the session about community building, co-creation and inclusion. Ljubljana's point of view on an interesting topic "Beyond bikelash: from media to social media" will be presented with emphasis on co-existence between pedestrians and cyclists in the 12 ha large pedestrian zone in Ljubljana.
At the closing event on 9 September at 11.45 (GMT), prof. Janez Koželj, the Deputy Mayor of Ljubljana will contribute to the plenary session: "Rethinking cities: cities as the new normal". He will have the honour of giving a speech during the handover ceremony, when Ljubljana will formally take over the organisation of the Velo-City 2022.
Ljubljana's presentation on the stage will be enriched with cultural interlude - a dance performance to the song "Change is strange" with music video playing in the back. The song, inspired by the main theme of the Velo-City 2022 "Cycling the change", has been written specifically for this occasion. The video shows a story of two people that are brought together by cycling through the beautiful city - Ljubljana.
All mentioned content is also accessible to participants that plan to join the Velo-City 2021 from distance, e.g. virtually, on-line.